With more and more hardware and software choices popping up every day, security is on everyone's minds. Personal computers and mobile devices are at constant risk of hacking and spoofing. As you navigate online, your device sends and receives data packets, which – if you do not have the right protection – can be compromised by a hacker. Using a VPN (virtual private network) service masks your IP address, adding protective measures to ensure your privacy. We tried out Golden Frog's VyprVPN service to see how well it works and if it's a viable solution that will protect you without hindering the performance of your devices. Our take? It's worth it. And here's why…
Staying Secure Online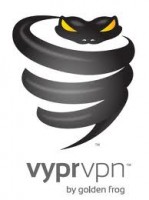 For years, businesses and educational institutions have used VPNs to keep anyone with packet sniffers from capturing their data streams. Now that more and more people are using their computers, phones, and tablets to communicate with each other and the Internet, VPNs are getting more popular for private use. When you choose a VPN and activate it, the service routes all of your packets from your computer or device through to one of the parent company's servers (in this case, Golden Frog), masking your IP address, internet service provider, and all of your personal data. Rather than your IP address, packet sniffers will only see one of Golden Frog's IPs. This not only hides your information, but also your geographical location. This not only helps you keep the data you're sending and receiving private, but it also aids in keeping your location a secret from anyone who might be stalking you personally, not just random hackers trying to steal anyone's identity they can.
So now that you know what a VPN does, let's talk about VyprVPN. This VPN company is a partner with GigaNews, a well-known UseNet provider since 1994. One of the things we liked about Golden Frog's VPN is that it is extremely cross-compatible. VyprVPN is available for Windows and Mac, as well as Android and iOS.  Their software is also constantly being updated for better functionality.  This sets it a step ahead of a lot of VPN services. As we all know, many people use more than one platform. Avid iPad users may prefer an Android phone. People who prefer PCs at home may have a MacBook for work and want to network these machines when they're working from home.
About Their VPN Network
With any VPN, it is important to know how much the company invests so you can know whether they are delivering a top-notch service or just full of it.  Vypr VPN service is completely built from the ground up using their own software, servers, support and in-house built technology.  You won't find any 3rd party or leased servers here.  Support, coding and tech is all done within the company to guarantee your privacy.
They have servers in over 70 worldwide locations spanning six continents.  With a massive network consisting of over 200,000 different IPs spread over 700 servers around the globe, you have a tremendous amount of choice when it comes to server selection.
Standard or Premium Plan?
In addition to its availability across platforms, VyprVPN provides you with a choice of services: Standard and Premium. At just $5 per month, the Standard option gives you 128-bit PPTP encryption. Without getting too detailed, this is the most basic of encryption choices for VPNs as it gives a single power user the flexibility of connecting up to three devices simultaneously. You have the flexibility to connect with the OpenVPN or L2TP/IPsec in addition to PPTP.
For just a little more at $6.67/month, the Premium plan offers five simultaneous connections with different devices.  The Premium plan is great for families who may have to use two simultaneous connections for their cell phones, one for their tablet and two for their PC/Mac.  It offers everything that's in the Standard plan plus their VyrpVPN cloud service and includes their proprietary Chameleon technology for unblocking any site that you weren't able to access before.  VyprVPN cloud is particularly useful if you want an additional layer of security when accessing your public or private cloud servers such as DigitalOcean, Amazon Web Services (AWS), and VirtualBox (more on the way).  All price plans above are for yearly commitments.
What is Chameleon Technology and Why Most Users Need It
Their proprietary Chameleon technology is only incorporated into tpheir Premium Plan and NOT in the Standard Plan.  Why is Chameleon important? If you're experiencing difficulties bypassing Internet blocks by other service providers, this service is extremely helpful.  Basically Chameleon scrambles your data such that firewalls set up by corporations or restrictive governments aren't able to read it with deep packet inspection.  The technology allows you to freely browse any site without any restrictions. So, if you're in this category of web user, be sure to sign up only for the Premium Plan to enjoy unblocked Internet use and unparalleled privacy.
Global Network Built from the Ground-Up for Speed Without Any 3rd Parties
Golden Frog is very proud of the fact that they do all of their coding and engineering in-house. So we can applaud them for the speed and usage performance we experienced. We had no problem with connections on all of the plans. We were able to use Hulu, Netflix, and YouTube apps on a phone without lag or freezing. We were a bit reticent about the seven-day money-back trial period. A lot of services out there, be they security, entertainment, or some other app, have trial periods of up to a month. That said, we would not have returned the service, so perhaps a few days was long enough, after all.
Service Speeds and Reliability
When surfing online or trying to watch your favorite show, it is important to get a fast online connection – even if you are connected via a VPN service.  Just because you use a VPN doesn't mean you have to put up with dial-up Internet speeds.  Thus, this is an important concern for many users and we had to find out if this service lived up to its promise. If your ISP throttles your Internet connection which leads to differences in your surfing or streaming speeds, Vypr helps you overcome it with VPN encryption.  The result: a faster connection without having to upgrade your ISP plan.
We searched extensively online for feedback from users on the speed of the VPN.  Many users report having very fast connections through VyprVPN.
What We Didn't Like
The only real issue with the service that we noticed was a lack of settings instructions. We had to muddle through and figure that out, which didn't take too long. The one time we encountered an error message, there was no troubleshooting option. For us, that was just a little bit annoying, but most users will not even notice this, as error messages do not seem to be a common occurrence. Tech support is very helpful in these rare cases, so we weren't too distressed.
Maybe it's just their marketing, or maybe we're a bit dense, but when you first look at VyprVPN it looks like a very standard VPN service. That's really not fair to the product and its developers and engineers. The Premium package's NAT Firewall and support for several levels of encryption and protocols set it ahead of many other providers.  This technology also makes connections much faster which means less waiting time to load and smoother Internet for you.
Also, if you are looking for a solution that does not keep any logs at all, this service is not for you.  In reality, however, most reputable and trustworthy VPN providers keep some logs.  Those who say they don't are dubious at best since they have to have some way to preventing abuse if the need arises.  The data collected is mostly generic in nature and are not designed to be able to easily pinpoint any particular user on their network.  In any case, if you are not planning to do anything illegal (most VPNs frown on this) and simply just want a fast, reliable VPN to connect and watch your favorite shows on Hulu or Netflix, this would be an excellent VPN service to go with given actual customer feedback.
So, What Do Other Customers Say About Their Service?
"I use vyprvpn, they have been increasing the servers. Works very well." — google123, Blackhatworld.com
"I use VYPR vpn. They are great I have no complaints." — TalkinSnake, macrumors.com
"I like/use VyprVPN (Golden Frog) it doesn't slow my connection down too much and I can run my iPhone through it. I've had for about 2 years now I'd guess and they just keep adding servers." — GermanyChris, macrumors.com
Should You Use This VPN Provider?
Overall, the positives vastly outweigh the negatives with this one. Like we said earlier, we would definitely not ask for our money back at the end of the free trial. While we might want a little more time to tinker with it and test it out, most users will not need more than a week to make their decision. For internet access that's easy to use, fast and secure, we give VyprVPN a thumbs up.
Lastly, if you need another reason to sign up, we've negotiated  an exclusive deal for you of 50% off the first month's service.  This applies for ALL plans.  Hurry and sign up now because we can't guarantee that this offer will last forever.
If you're in China and are having trouble accessing the Golden Frog main site, check out their mirror site below which bypasses the blocks here.  It is highly recommended that if you are outside China, to download the app first so as to avoid any issues that may arise later.  Users in China can contact their support on the site below if necessary.
Important Note: China requested that all VPN apps be removed from Apple China iTunes app store.  As a result, you will need a workaround in order to download and keep your VyprVPN app updated by using another country's iTunes app store.